Sale!
BEURER BM-28 BLOOD PRESSURE MONITOR
Key Highlights:
Fully automatic blood pressure and pulse measurement on the upper arm

 

Average of all saved measured values

 

Cuff position control

 

2 adjustable alarm times

 

Easy-to-read display

 

4 x 30 memory spaces

 

Risk indicator

 

Arrhythmia detection

 

Beurer Medical devices

 

For upper arm circumferences from 22 to 36 cm

 

Date and time/automatic switch-off

 

Incorrect usage message

 

Low battery Indicator

 
Compare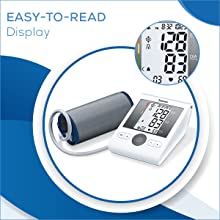 Easy Readings
With an XL display, all of your measurements are clear and easy to read. The Beurer BM28 Blood Pressure Monitor features a patented resting indicator. The unit includes a symbol which indicates whether you are sufficiently calm in body & mind for your readings to reflect a true resting blood pressure measurement – because if you are not in 'resting' mode, you will yield inaccurate results.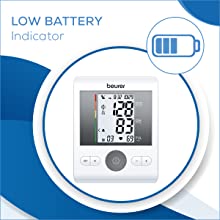 Automatic and Accurate
At Beurer, we believe your health & wellness should always be a priority. That's why we've designed a monitor with you in mind. German engineered so that we can bring you the reliability of accurate measurements and features you can depend on.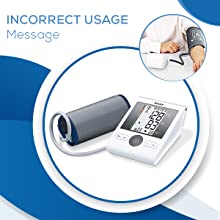 How to Use
Step 1: Put the cuff carefully around your upper arm (bare-skinned). Try and stay calm for several minutes before taking your measurements.
Step 2: Adjust the cuff with enough space so that 2 fingers fit between the cuff and your arm. Let your arm fall on the table and bring the cuff up about heart level.
It's important to ensure that the tube is in line with the centre of your palm.
Step 3: Choose your user profile and press Start. It will automatically measure systolic and diastolic blood pressure as well as your heart rate.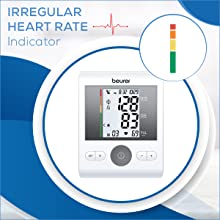 Advanced Features
The upper arm blood pressure monitor identifies heartbeat disturbances and alerts you if detected. A colour scale shows you at a glance if your blood pressure is too high. It categorizes the results of each measurement by colour green over orange to red (a total of 6 colour indicators).