Sale!
Arm Pouch Sling
₹262.50 – ₹308.70
Compare
The Arm Pouch Sling is designed to support and stabilize the shoulder while recuperating from a fracture, sprain or other injuries
We often see shoulder dislocations in movies, but when it happens in reality, it really can be quite painful. This adjustable arm sling provides the relief you need by immobilizing the shoulder joint while allows recuperation from a fracture, sprain or injury. It could be used on the right or left arm, has a thumb loop ring provided for better grip as well as a pad provided at the shoulder region for better comfort.
When to Use
Postoperative immobilisation of the shoulder joint
Shoulder dislocation Lesions of the rotator cuff
Discomfort in the area of the shoulder girdle
Stable subcapital fractures of the humerus Scapular fractures
Benefits Of Use
Provides support and required immobilization to the shoulder joint
Provides comfortable support to the arm
Features
Soft Support
Adjustable Support
Anti-Fungal
How to Use
Place your arm inside the sling
Tighten and fasten the strap for height and angle of hand rest
Product Care
Hand wash with mild detergent and water at room temperature
Dry in shade on a flat surface
Do not dry clean
Not sure about the size?
Refer to our size reference guide for help.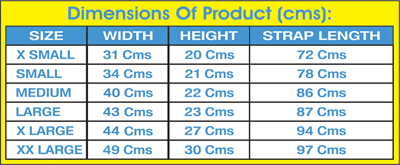 Size:

Large, Medium, Small, X-Large, XX-Large
5 Stars

4 Stars

3 Stars

2 Stars

1 Stars
If you finish the payment today, your order will arrive within the estimated delivery time.
Only logged in customers who have purchased this product may leave a review.